GCHB Kalina Ableaim Cloaked in Legend SC DS CGC
Oakley is a true gem of a dog!  He is biddable, sound minded, and easygoing, but has the drive to do anything from dock diving to lure coursing to kayaking!  He has been started in obedience and rally and should be trialing soon.
 Oakley is the first time show dog for his owner, Maddie Petit.  In the ring, he has received AWC Specialty and Supported Entry placements and wins, multiple breed wins, OHBIS and has earned his GCHB, entirely owner handled.  The pair also finished the 2020 show season with Top Twenty ranking!  
In his free time, Oakley works as a therapy dog on the Cancer unit.  We so proud of him and are looking forward to what he and Maddie do next!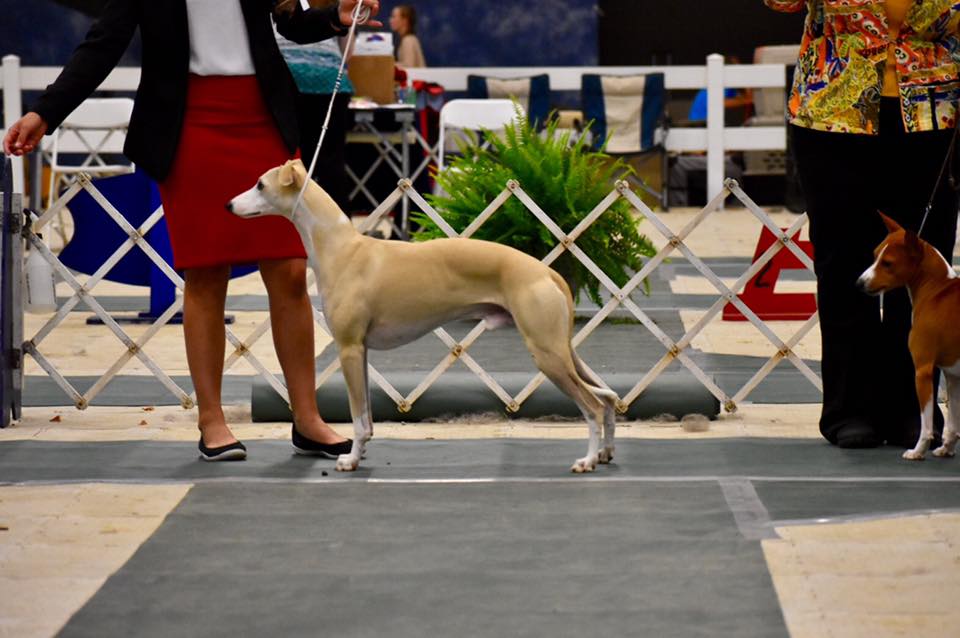 2017
– AWC National Specialty 1st in 9-12 Futurity Dogs (judge Crystal McNulty, Hycks Hollow Whippets)
2018
– Whippet Club of Eastern Canada Specialty Best of Winners and Best of Opposite (judge Robert Dawson)
– Canadian Specialty weekend Winners Dog and Best of Opposite (judge Frank Kane) and Best of Winners (judge David Wong)
2019
– AWC Midwest Specialty Select Dog (judge Michael Leachman)
2020
– #12 Breed AKC Ranking
– #1 AKC Owner Handled Whippet
– AKC National Owner Handled Series Best of Breed
2021
– AWC National Specialty 2nd Place Brace Class (with son Rowan)
– AWC National Specialty 1st Place Rally Novice A
2022
– AWC National Specialty Willow Award
– AWC National Specialty 4th Place Rally Novice A
– AWC National Specialty Brace Class Winner (with son Rowan)
OFA Health Testing
BAER – Normal
Echocardiogram Normal – 2019, 2020, 2022, 2023
OFA Eyes Normal – 2019, 2020, 2021, 2022